"You're sticking with that MotherF**cker?!". What team was Tom Brady referencing?
From winning the Super Bowl in his first season in Tampa Bay to partying on yachts, playing golf with Phil Mickelson and other celebs, and cracking jokes on Twitter and TikTok, Tom Brady is having himself quite a year.
During his offseason, he made a cameo on HBO's The Shop, which aired last Friday. He began to open up about a variety of topics, but one that caught many viewers' ears was his decision to leave New England in free agency.
Midway through a story regarding his experience with last year's free agency, Brady dropped a subtle hint that a team that was interested in him decided to withdraw from the race and stick with their current QB.
"There was a story in free agency – and one of the teams, they were interested, and all of a sudden they weren't interested in the very end. I'm sitting there thinking, you're sticking with that motherf**cker? Are you serious?" - Tom Brady
According to multiple sources, there was a sizeable list of teams that had an early interest or initial talks to add Brady as their QB1. That list included the Bears, Chargers, Raiders, Rams, Saints, Titans, 49ers, and of course the Bucs.
He went on later in that conversation saying he wouldn't have gone to the team that didn't want him. It is safe to say Brady made the right decision to join the Bucs. He had a star-studded supporting cast and recruited talent to help him secure his seventh ring, including the likes of Rob Gronkowski, Antonio Brown, and Leonard Fournette. It is still interesting to uncover the "what if" if Tampa Bay wasn't an option or if it wasn't Brady's first option. Put on your investigation hats and let's dive into it.
Tom Brady Free Agent Suitors in 2020- Supposedly
For a timeline factor, Brady signed with the Bucs on March 20th, 2020. Well before the draft, but on the latter end of when other deals took place.
Los Angeles Chargers
- Quarterback: Tyrod Taylor
On February 10, 2020, the Chargers and Rivers mutually agreed that he would not be re-signed and would enter free agency. On March 21, 2020, Rivers signed a one-year, $25 million deal with the Colts. Tyrod Taylor was the backup, and although named the starter, didn't seem to be the immediate first option. In the draft that year, they opted to go for their QB of the future, which led them to take Oregon product Justin Herbert, who shined well in his first season after Taylor had a health scare in the minutes leading up to the opening game.
Chicago Bears
- Quarterback: Mitchell Tribusky
The former Tarheel and 2017 2nd overall pick will always be tied to the likes of Deshaun Watson and Patrick Mahomes, being that he was drafted before both of them. With those two guys' successes, especially MVP and Super Bowl Champion Mahomes, Tribusky has never filled his lofty expectations. In 2018, he lead the Bears to the NFC championship, but in the following season performed sub-par. Chicago has a talented roster and needed a true playmaker to lead them to the promised land. There was speculation that Brady was their guy, but they ultimately opted to "stick with Mitch". However, when the dust settled on the Brady frenzy, on March 31st, 2020, the Jaguars traded Foles to Chicago in exchange for a compensatory fourth-round pick in the 2020 draft.
Las Vegas Raiders
- Quarterbacks: Derek Carr
Derek Carr has been the Raiders QB for quite some time, but the team has failed to do anything meaningful during his tenure. The team has flirted with upgrades, but DC still seems to be the gunslinger. The Raiders were an intriguing option for Brady, but they opted to stand pass with Carr. This could have been the QB that Brady referenced, but Carr came to his defense and says he heard Brady wasn't referring to him.
Los Angeles Rams
- Quarterback: Jared Goff
Brady had familiarity with the Rams, after a 13-3 Super Bowl victory against them in the 2018-19 season. Goff led the Rams to the big game, and he completed 19 of 38 passes for 229 yards, but he did throw a costly interception to Stephon Gilmore late in the 4th quarter to solidify the loss.
This would have been a stretch, due to the financial obligations the Rams had with Goff. In 2019, the Rams picked up the fifth-year option on Goff's contract. A few months later they signed him to a massive four-year extension worth $134 million featuring $110 million guaranteed.
Tennesse Titans
- Quarterback: Ryan Tannehill
Titans head coach, Mike Vrabel, has a special bond with Tom Brady. Vrabel was part of the Patriots from 2001 to 2008, winning three Super Bowl titles. Even though he was a linebacker, he also played a bit of tight end, catching 12 passes for 12 touchdowns from TB12. They seem to have fun with each other, and the Titans have formed a nice little roster, including the tank himself Derek Henry as the lead rusher. They found themselves in a little bit of a QB controversy after former first-round pick Marcus Mariotta failed to perform at a high level. Enter Ryan Tannehill, who had his fair share of woes with the Dolphins. After being traded, he sat in the wings until his number was called. In his Comeback Player of the Year award-winning season in 2019, he finished the year with 2,742 passing yards, 22 touchdowns, and six interceptions to go along with 43 carries for 185 yards and four touchdowns in 12 games. On March 17, 2020, Tannehill signed a four-year extension with the Titans worth $118 million, committing to him as their QB1.
New Orleans Saints
- Quarterbacks: Drew Brees, Teddy Bridgewater, Taysom Hill
There were a lot of eyes on the Saints, because there was a decision to be made with future Hall of Famer, Drew Brees. Could he retire, could he leave for another team? Nobody knew. The Saints were rumored to fill the Brees void with Brady if it came down to that decision. They also could have stuck with Teddy Bridgewater, who guided them to 5-0 in games he started. Ultimately, Brees remained in New Orleans, signing a two-year, $50 million contract extension with the Saints on March 17th, 2020.
This created a domino effect on QB's, as on March 26, 2020, Bridgewater signed a three-year, $63 million contract with the Panthers. Jamies Winston found his way on the Saints in a corresponding move, after Brady signed with the Bucs and they opted to let him walk.
San Francisco 49ers
- Quarterback: Jimmy Garoppolo
Throwback to 2016, when Brady was suspended for Deflategate, Belichick named Jimmy G as the starter for the season. He went 2-0 before an injury, completing 68% of his passes, throwing 4TD, no INT's, and 502 yards. There were murmurs that he was the "heir to the throne". No rumors say Brady did not like that, and he viewed Garoppolo as a threat and was not helpful in mentoring him. Garoppolo would not accept a contract extension to remain the backup and Brady wanted to be the present and the future of the team. It was an ultimate that divided the team, with some reports saying Brady was going to be the one traded. After all of this, Garoppolo was shipped off to San Fran.
Now it gets interesting because Jimmy G did lead the 49ers to the Super Bowl in 2019. The 49ers must have appreciated that effort, no? However, it ended in a loss, and his numbers weren't award-winning clearly. He threw 31 passes, completing 20 for 219 yards, one touchdown, and two interceptions during the 31–20 loss. His team was up by ten points with seven minutes remaining in the game but the Chiefs later scored 21 points in five minutes to win it. He did finish the season with 3,978 passing yards, 27 touchdowns, and 13 interceptions, and was the runner-up for the NFL Comeback Player of the Year.
So who was he talking about?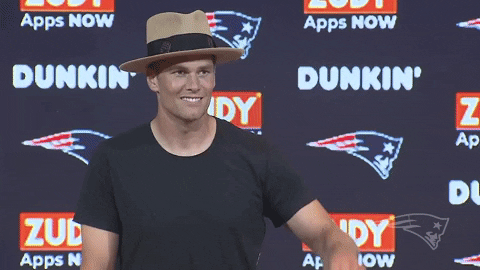 The Verdict
After breaking down the supposed list of suitors, there are a few that you can immediately cross off. The Chargers had no true quarterback and seemed to have lost out on the sweepstake at the very end. Drew Brees returned to the Saints, so they were out. He is too notable and historic of a player to be salty about staying with him. Derek Carr has denounced any rumors, but the Raiders weren't the best fit for TB12 anyway. The Rams had a heavy investment in Goff well before Brady was expected to leave the Pats, so they can be crossed off this list as well.
Potentially, it could have been the Chicago Bears, where the highly touted Mitchell Tribusky has struggled when their defense has been championship caliber. Their issue could have been more on the financial side. It may have been his old pal, Mike Vrabel, and the Titans, deciding to commit to Tannehill, but Tannehill deserved his contract with the year he had prior.
The only logical option and my official verdict is that it was the 49ers and Jimmy Garoppolo. The old beef with Garoppolo was there, and it seems present that he didn't enjoy how a second-team wanted to stick with Jimmy G over himself. Brady had his eyes set on the 49ers for years. He grew up in the Bay Area, observing the 49ers as his team. An old quote too came up, saying he just wanted to be like Joe Montana and Steve Young when growing up and developing his game.
Photos: Swap Center via Twitter (1) | Tom Brady via Facebook (2)
** This is just an educated guess. I do not know Tom Brady nor would I assume his thoughts. This is my attempt at Big-J journalism. **